The Sır Dam and Hydroelectric Power Plant was built on the Ceyhan River, 50 km from the city center of Kahramanmaraş. It has a total installed power of 283.5 MW with its 3 generators, each of which is 94.5 MW, and its annual generation capacity is predicted as 725 million kWh.
The construction of the Sır Dam and Hydroelectric Power Plant in the Ceyhan Basin started on 29 August 1987 and was built in a short time like four years after the foundation was laid.
Unit-3 was put into operation on 17 April 1991, Unit-2 on 14 July 1991, and Unit-1 on 24 August 1991.
The body volume of the dam, which was built in the double curvature thin concrete arch type, is 60,000 m³, and its crest length is 325 m; body height is 120 m. The lake volume at the maximum water level is 1.123 hm³. Sır Dam is the third thin arch concrete dam built in our country after Gökçekaya and Oymapınar. There are 3 energy input structures, each of which has been established to pass the turbine flow rate of 114.25m³/sec at a speed of 0.85 m/sec. The diameter of the penstocks is 5.3 m. Turbines are Francis type with vertical axis and 114.25 m³/sec water permeability under 93.62 m nominal net head.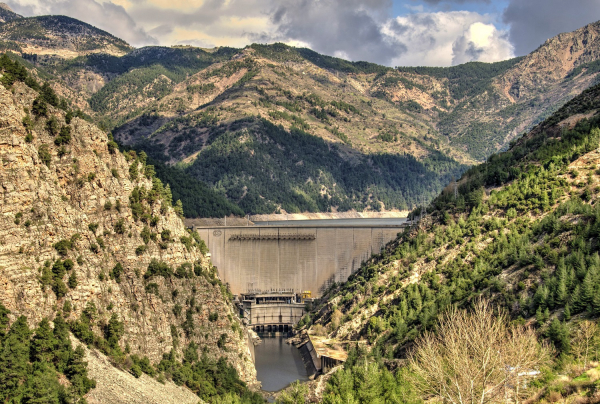 Highlights
YEAR OF CONSTRUCTION
1991
WATER CAPACITY
1.123 hm³
INSTALLED POWER
283,5 MW
ANNUAL PRODUCTION
725 GWH
LOCATION
Kahramanmaraş
TURBINE TYPE
Vertical Francis
NUMBER OF UNITS
3
BASIN
Ceyhan
SIR HEPP
Promotion Film
SIR HEPP
Media Gallery