Ilısu Dam and Hydroelectric Power Plant was built on the Tigris River, 17 km east of Dargeçit district of Mardin province. It has a total installed power of 1,208.6 MW with 6 generators each of 200.7 MW and 1 auxiliary unit of 4.4 MW, and its annual production capacity is foreseen as 4,120 GWh.
The construction of the Ilısu Dam and Hydroelectric Power Plant, located in the Tigris Basin, started in 2006 and was completed in 2020 and put into service.
The body volume of the dam, which was built as a rockfill type with concrete front face, is 23.9 million m³, crest length is 2230 m, and body height is 134 m. The maximum water level of the dam is 525 m, and the reservoir volume at this elevation is 10.6 billion m³, and the lake area is 313 km². Ilısu HEPP is Turkey's 4th largest dam in terms of installed power (1,208.6 MW).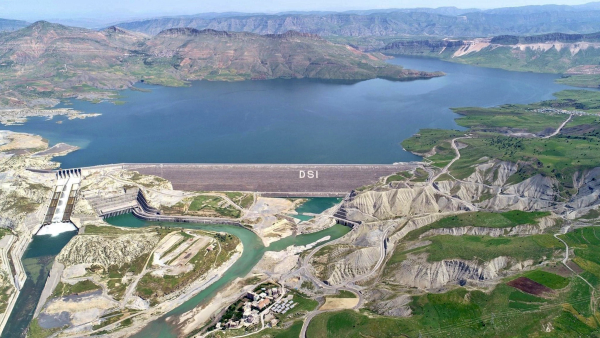 Highlights
YEAR OF CONSTRUCTION
2020
ANNUAL PRODUCTION
4.120 GWh
WATER CAPACITY
10,6 billion m³
INSTALLED POWER
1.208,6 MW
TURBINE TYPE
Vertical Francis/Horizontal Francis (Auxiliary Unit)
BODY TYPE
Concrete faced rock fill
NUMBER OF UNITS
7
LOCATION
MARDİN
BASIN
DİCLE
ILISU HEPP
Media Gallery