Hirfanlı Dam and Hydroelectric Power Plant was built on the Kızılırmak River, 30 km from the E5 Highway, on the south side of the Kaman district of Kırşehir province. It has a total installed power of 128 MW with its 4 generators, each of which is 32 MW, and its annual generation capacity is estimated as 300 million kWh.
Three units (3x32MW=96MW) of the Hirfanlı Dam and Hydroelectric Power Plant located in the Kızılırmak Basin were put into operation on January 8, 1960. Installation of the 4th unit was made entirely of domestic material by the personnel of TEK and was included in the system as 32 MW in 1983.
The body volume of the dam, which was built in rock body fill type, is 2,000,600 m³, crest height is 81 m, and crest length is 365 m. Lake volume at maximum operating level is 5,739 hm³, the lake length is 75 km and the lake area is 263 km².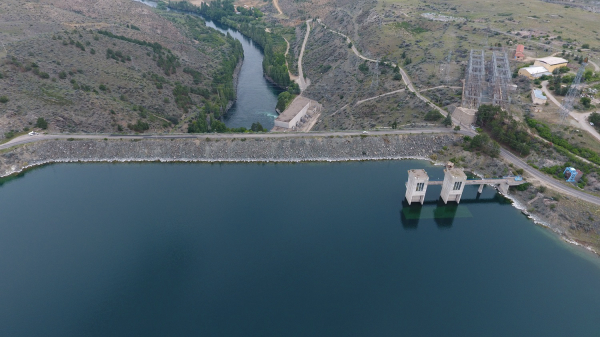 Highlights
YEAR OF CONSTRUCTION
1960
WATER CAPACITY
5739 hm³
INSTALLED POWER
128 MW
ANNUAL PRODUCTION
300 GWh
LOCATION
Kırşehir
TURBINE TYPE
Vertical Axis Franchis
NUMBER OF UNITS
4
BASIN
Kızılırmak
HİRFANLI HEPP
Media Gallery