Erik HEPP was built on Erik Stream within the borders of Ermenek district of Karaman province. It has a total installed power of 6.48 MW with 2 generators, each of which has a power of 3.24 MW, and its annual generation capacity is estimated as 33.7 million kWh.
With the conclusion of the technical and financial negotiations between the Consortium formed under the leadership of BM Engineering and Construction Inc. and DSİ in line with the cabinet decision partaking within the agreement signed on 10.10.1997 between the two countries within the framework of the provisions of the Turkey-Austria Joint Economic Commission First Term Meeting Memorandum of Understanding, which stipulates cooperation in the field of energy, and taken within this framework, the contract of Erik HEPP, located in the Göksu basin was signed between the parties on 21.01.2002 and the construction of the power plant was completed in 2012.
Erik HEPP was included in the project as the 2nd component of the Ermenek Dam and HEPP project in order to evaluate the elevation difference in Erik Stream, which empties into Ermenek Stream, and is a canal type power plant.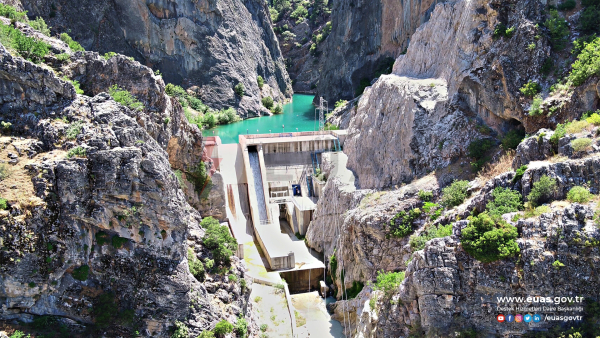 Highlights
YEAR OF CONSTRUCTION
2012
WATER CAPACITY
INSTALLED POWER
6,48 MW
ANNUAL PRODUCTION
33,7 GWh
LOCATION
Karaman
TURBINE TYPE
Horizontal Axis Franchis
NUMBER OF UNITS
2
BASIN
Göksu
ERİK HEPP
Media Gallery